Full article: https://www.frw.co.uk/editorial/people/pont-des-arts-winemaking-as-an-artform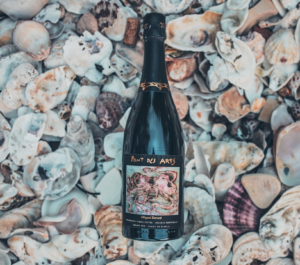 Pont des Arts is a collaboration between artists and winemakers to promote the intricacies of fine wine production through the lens of an artist. We talk to Thibault Pontallier – son of the late Paul Pontallier – about the inspiration behind the project.
The Pont des Arts project was created by Thibault Pontallier (son of Paul Pontallier, the celebrated winemaker of Château Margaux from 1983 to 2015) and Arthur de Villepin, an art curator from Paris. Both Thibault and Arthur come from high profile backgrounds, with Arthur the son of the former French Prime Minister Dominique de Villepin. Growing up in such a prestigious and privileged environment introduced them both to the world's most exciting artists, as well as the world's most successful winemakers. It was this immersion in both the world of fine art and fine wine that spawned the Pont des Arts project.
"My family has been making wine for more than 500 years, and since I was a kid I have always considered winemakers to be amazing artists who are able to transform and sublimate nature into something truly special and emotional," says Thibault. "My father used to say, 'A good wine gives you pleasure, but a great wine can give you emotion', and it is exactly the same for a great music, movie or painting." Pont des Arts is very much a project to combine these two cultural worlds, producing wines made – and inspired – by artists. "A certain painting will be able to show and express the depth, the power or the finesse of a subject," explains Thibault, "and wines can do the same thing. It is the perfect metaphor to understand the magic behind a wine."
The project aims to position the wine as a bespoke creation. Each winemaker involved in the project has produced a wine distinct from their "normal" range, bottled exclusively for Pont des Arts.
It is then down to Thibault and Arthur to identify how the wine resonates with an artist's work. "Arthur and I went to the artists' ateliers, and met with the winemakers for each collection, carefully thinking about the association between each painting and each wine, and to ensure the emotions that are evoked when drinking great wine or looking at great art are intrinsically linked."

Arthur de Villepin & Thibault Pontallier
The first collection of wines was curated in 2010 and was in fact a collaboration with Thibault and his father Paul Pontallier. They both travelled throughout France to find inspiration from their many winemaking friends around the country. "My father, a few good winemaking friends and I looked for months for the best terroirs and the best grapes, tasting more than 700 different parcels in France to realise this unique project." The selection process for them was clear from the outset. For each wine they were looking for three main attributes: "Each wine must have a very special perfume, epitomising each appellation, a huge power hidden by elegance, and a fresh lingering finish."
Following the success of the initial releases, their collaborations with winemakers grew. They started to work with more vignerons who shared their philosophy and whom they wanted to work with. Etienne de Montille, Rodolphe Péters (of Pierre Péters), Château la Conseillante and Nicole Rolet (of Chêne Bleu) have all made special cuvées for them. "The most important thing is that behind each collaboration is a beautiful friendship, a shared vision, love of wine and trust. We work very closely with each winemaker for every collection. Making sure everyone is part of the process and that the art and the wine complement each other perfectly," says Thibault. "The wines themselves are works of art, so we spend a lot of time deciding on each new creation."
The success of the project has seen winemakers entrust Pont des Arts with some very special cuvées. Giving the team amazing access to some rare Premier and Grand Cru wines from some of France's most celebrated terroirs. With such quality the volume unsurprisingly remains very small, each cuvée exceptionally rare and becoming harder to find, "Exactly like the great pieces of art we work with," explains Thibault. "What I love with this project is to see the excitement of the winemakers we work with, because they can create something unique and different for Pont des Arts, something different from what they were doing in the past. Our aim is to give them freedom and allow the creativity to create something unique and special."
Perhaps Pont des Arts's access to some of the world's finest winemakers and terroirs is not such a surprise given the reputation of Paul Pontallier. Securing artists for the project seems more difficult, particularly with such famous artists as Piet Mondrian. While some of the artists – such as the Spain's Miguel Barceló and French Chinse Artist Zao Wou-Ki were long-term friends of the Villepin family, for artists like Piet Mondrian, Thibault and Arthur were in touch with the estate throughout the whole process (design, production, labels etc). "They were very happy to help us develop this collection as they liked the initiative behind Pont des Arts." Thibault is keen to convey "a message with authenticity and passion," he tells me. "I guess the people we are collaborating with can sense that, which makes everything much easier."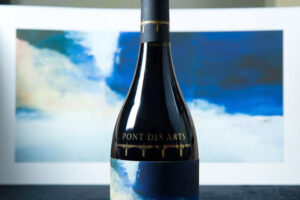 The Pont des Arts project continues to expand with some of the world's most exciting contemporary artists and winemakers lining up to take part in new collaborations. One of the latest releases to come from Pont des Arts is a Grand Cru Blanc de Blancs from renowned winemaker Rodolphe Péters of Champagne Pierre Péters with artwork by Miquel Barceló on the label. Look out for this release early next week.